24 Jul
Bertram Variety
Just how many boats has Bertram built?
OK, so Bertram built about 1800 of the 31's and that was surpassed only by the 2200 or so of the 28's and all toll, the number lies somewhere above 12,000 total boats, but I mean just how many different boats did they build? We all know the boats I mentioned above and several more marquee numbers that barely need the word "Bertram" in front of them to paint a visual, but I have found that it would be easier to count the boat lengths that Bertram did not build in the last nearly 60 years. I have spent more hours than I care to admit in our archives trying get an exact tab...let's just say there aren't that many numbers between 20 to 80 leftover...so far!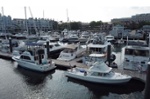 Bertram family fun

You only have to attend one of our Bertram Summer Rendezvous to see the variety of boats Bertram built. Every one of them distinctly Bertram in their own way. Our Bertram family has already had great events in North Carolina and Boston this summer, so we can't wait to see pictures from the other three corners of North America.

I also look forward to sharing pictures of upcoming deliveries as a 61 (take that number off the list ??) heads down to the Caribbean and another loads aboard a ship to Yokohama, while our first 35 with just shy of 400 gallons of fuel, makes the fun trip up the east coast of the US.
We send detailed emails about each project, so feel free to click our contact form below and select the projects that want to be kept up to date on.